You want to grow sales.
You want to get into the room with CEOs, decision-makers, and customers.
You've heard of content marketing.  
But you can't Google "how to create partnership channels from scratch" or "how to drive sales using podcasts".
Fundamentally, webinars and podcasts are about creating win-wins.
In exchange for your knowledge and expertise to a narrow, trusting audience, you're given a few seconds of fame for a single call-to-action: a chance to sell your product, hire for your team, and make listeners aware of an initiative.  
When done correctly, you can leverage short-form LinkedIn video to create leverage for other players in the ecosystem as well, facilitating a multiplayer win and driving business for everyone.
---
This is the playbook that I used with Ethan Aaron at Portable to generate hundreds of hours of view time and dozens of LinkedIn DMs.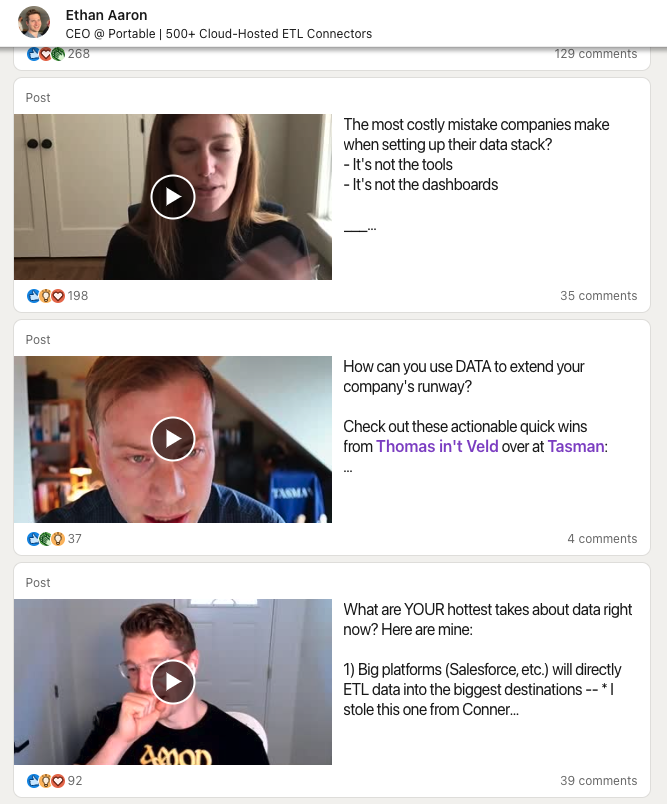 Note: This strategy works best if you have an existing audience (LinkedIn + podcasts clips are very synergistic), and in most cases, you should consider scaling daily LinkedIn posts before considering audio or short-form video.
Sections
---
LinkedIn 101
LinkedIn is the "social media" platform that everyone uses, but nobody says they're using.
It's by design.
LinkedIn started as a place to get jobs.
99% of LinkedIn users are "taking". They're going to the platform to get something. A new job, a new sale, or a new piece of information.
Therefore to effectively market on LinkedIn, you need to create content that gives.
Content that's valuable – makes your partners look good, teaches your audience something new, helps your customers make more money.
That means:
Don't write posts about your product
Don't sell your company via webinars
Don't write about yourself (unless you're sharing a lesson from personal experience that others can use)
On LinkedIn, you must elicit emotion and you must do it in a way that's sustainable*.
---
Podcast Clips
The best posts on LinkedIn are the ones with a catchy hook.
Justin Welsh has created an entire career around this.
Long-form content doesn't do well on LinkedIn and short-form only does well with a good hook.
The equivalent of a hook in podcasts is a clip.
Don't post podcasts, post short-form highlights.
Here's how to do it 0 → 1
---
Networking
1. Kickstart the process by brainstorming a number of people you want to talk to. Like a sales pipeline.
2. If you don't have a connection, send a Personalized Note in the invitation to connect. If they respond, it opens up a DM.
3. Be a human. Ask them they want to be spotlighted on an interview.
4. Clue them in on the purpose of the call.

5. Send a template of 5 questions to their marketing team (alternatively get their media kit)
Who are you; what is your background?
What does your firm do? What problems do you solve for your customers?
How do you help them?
When should customers start talking to you? What are the "symptoms" that they should go to you for?
What's the call to action for our audience to help you?
Recording the Interview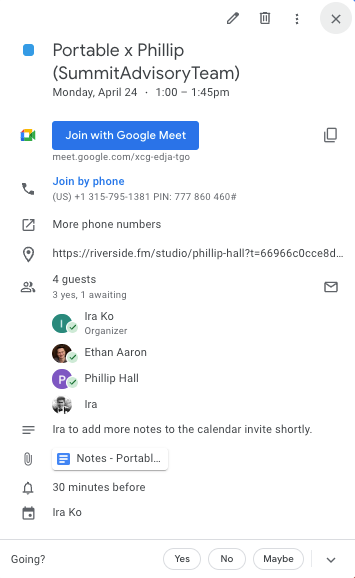 Create a personalized Riverside link (Studio) and add it to the calendar invite. I like to do these immediately when I schedule the event so that guests aren't scrambling day-of-interview.
To keep things conversational, start recording 5 minutes before the scheduled event start time. As participants trickle in, it'll feel like walking into a party. Just keep talking and let them transition smoothly into the call.
Walk through the purpose of the call:

- It's to spotlight you and your company
- It's to create value on LinkedIn with short 1-2 minute clips highlighting your expertise
- Good content elicits reactions. Specifically focus on soundbites that trigger:
WOW - that's amazing!
OHHH - now I get it!
FINALLY - someone said what I feel!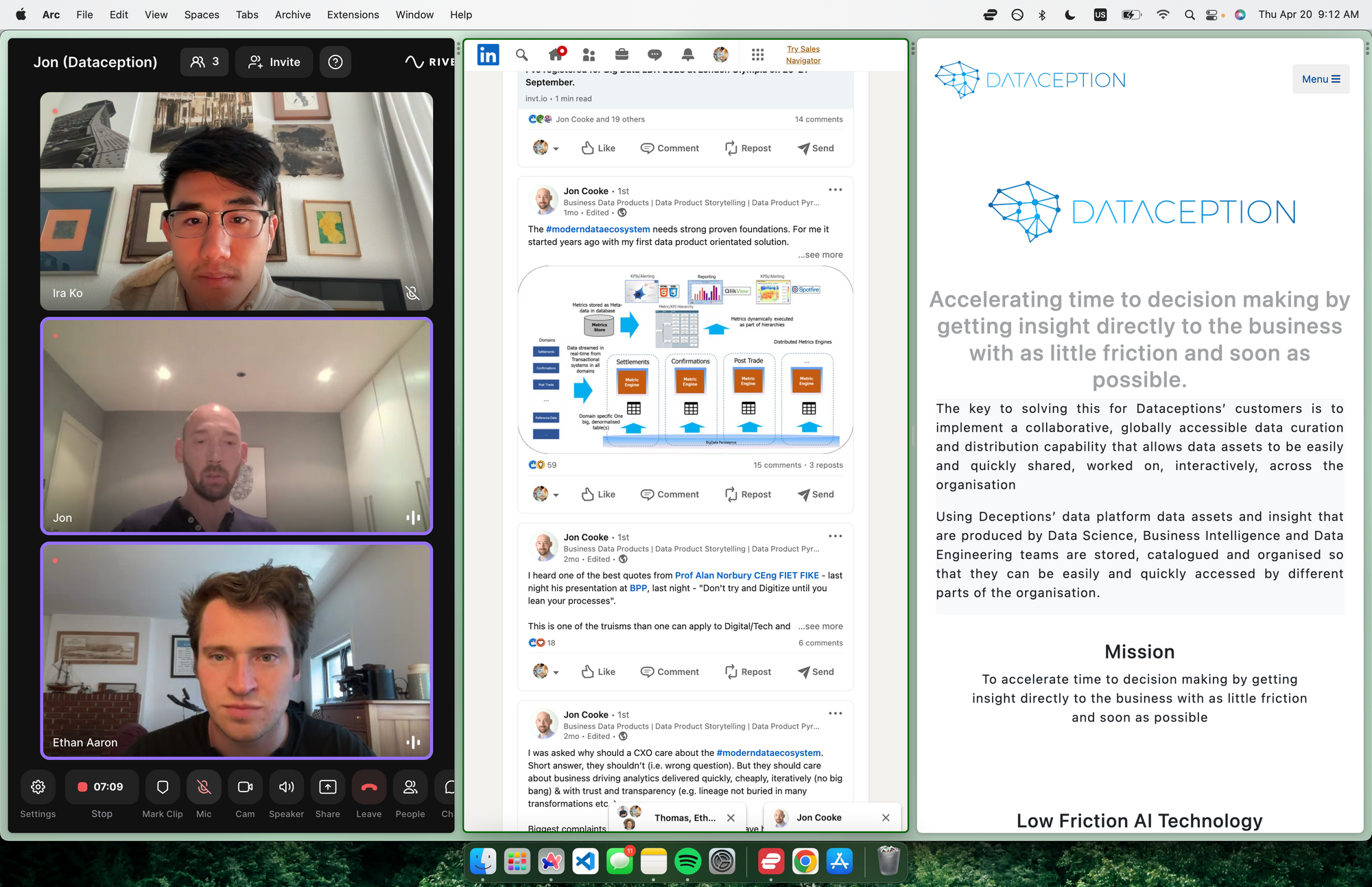 During the call, take notes of anything that can be used as a highlight. This makes cutting audio much easier in post. Make note of keywords that you can reference back in the transcript.
Editing and Staging Clips for LinkedIn
After recording is finished, download the transcript
Pull out any clips that seem interesting
Think: What's the narrative? What's going to stop the scroll? Elicit an emotion? Encourage a share?
Go in and view / listen to them
Edit the clips, applying whatever frames and borders required
Download the clip
Upload the clip to Google Drive
Schedule the clip for posting.

Writing the LinkedIn Post
There's a lot more to dive into here. But high level:
Craft the body of the LinkedIn post
Spend the most time on the first 1-2 lines of the post. This is called the trailer or the hook.
Add a call-to-comment at the bottom of the post
Schedule it into the content calendar
Post early between 8am and 10am
Refine, Rinse, and Repeat
Understand what performed well and what did not
Are you creating value to your audience?
To your guests?
Are you getting reactions? Engagement? Why? Why not?
AB Test.
Scaling Up
Find a scheduled time during the week to do interviews
Find a scheduled time during the week to coordinate guests
Find a scheduled time during the week to add new outbound

4. Build a pipeline.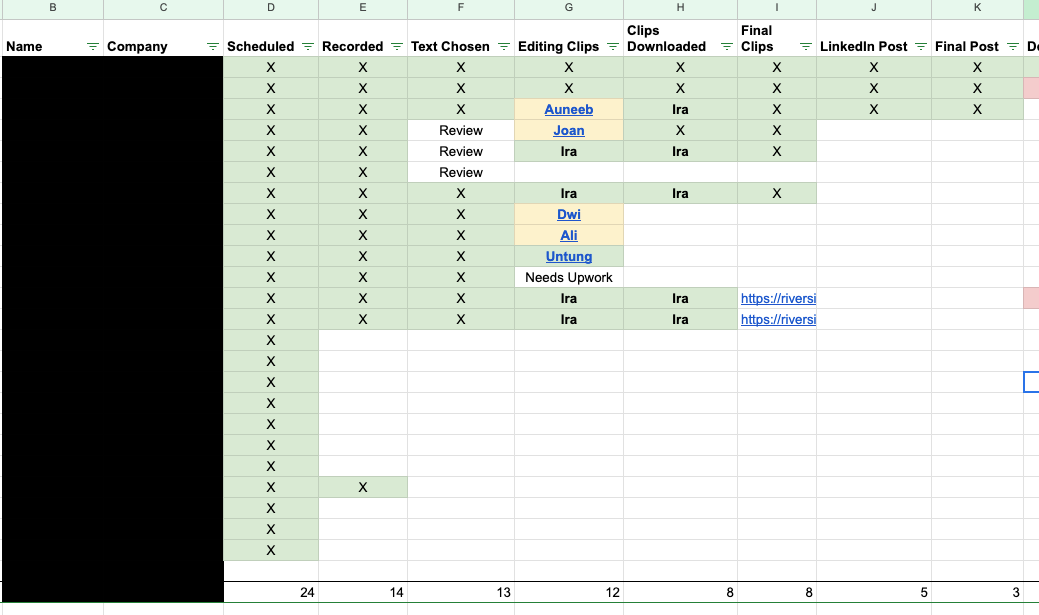 Feel free to DM me on LinkedIn or shoot me a note if you have questions.
---
*Don't cold start a weekly podcast.
Podcasts do not have clear, upfront ROI. Content marketing isn't Google Ads. In the long run, the investment will pay off, but make sure you can sustain the channel.
How to Build Partnerships from 0→1 with LinkedIn Videos